Monday, June 30, 2008
Due to Free Agency, we actually just remembered we were supposed to recap the news tonight.
It's not happening.

Check out this clown:

Last year's free agency was all about big-time cash money.
Debbie Briere, Chris Drury, and Homo Gomez all got insane contracts.
And yes, for the most part, those players were bad...
But the Flyers and Rangers both made the playoffs, so it wasn't all bad.
Especially for the Flyers, who were worst in the NHL
and made it all they way to the Eastern Conference Finals.
Although Briere's contract is a little misunderstood (he is only counting $6.5 against the cap),
some NHL teams still had to see that overpaying isn't going to get you anywhere.
But as bad as the Flyers looked on that end, they did make two quality signings in God Timonen and Scott Hartnell.
If the draft was any indication (13 trades in the first round), this free agency is going to be crazy.
And with late-breaking news that Tampa Bay is paying Ryan Malone $7 and $8 mill his first two years, God only knows whats going to happen.
::::::::::::::::::::::::::::::::::::::::::::::::::::::::::::::::::::
As we saw last year, it is a full-on frenzy. Remember the Michael Nylander situation?
Remember when Kevin Lowe started trying to sign everyone's players?
Once one player signs, GM's have to make split-second decisions.
A year ago, we saw the Penguins make some moves in the early hours, signing Petr Sykora and Daryl Sydor.
Both signings had impacts. Sykora was money in the bank.
Sydor struggled, but he still played minutes for the Pens so whatev.
This year, the Penguins have tons of unrestricted free agents leaving, and there is a belief they will be major players tomorrow.
Ray Shero isn't going to panic. And he doesn't have to.
Here is an seemingly endless stream of free agents who every GM is looking at.
:::::::::::::::::::::::::::::::::::::::::::::::::::::::
:::::::::::::::::::::::::::::::::::::::::::::::::::::::
Stats Key: GP -- G -- A -- P
Goalie Stats -- Ehhhhhh, figure them out.
LADISLAV NAGY
Nagy has been running injuryblog for the past couple seasons.
When healthy, he was hovering around point-per-game status with Phoenix.
He's coming off neck surgery, so his price may be low,
potentially making him a low-risk, high-reward player...and he's only 29 years old.
MARIAN HOSSA
Beast. The hottest commodity this summer.
JAROMIR JAGR
JJ may very well have been dying alive in New York these past few years.
He's 36 years old, and it seems like everything in his environment has to be congealing for him to excel.
He wants a multiyear deal, which the Rangers are balking at.
SEAN AVERY
We got a close-up look at Sean Avery during this year's playoffs.
Maybe with the right linemates, he could bump up to a 20-goal threat.
And it's funny to say, but if the Pens lose Ruutu and feel they need that kind of player, well...
D -- BRAD STUART
We've all heard fleeting mentions of his name when the NHL is discussed.
He was steady for the Wings in these most recent playoffs.
He's been passed around the NHL like Lindsay Lohan at a crackhouse.
PETER FORSBERG
He's done. He has more question marks that The Riddler.
Paying more than 80 cents a year for him would be idiocy.
D --
RON HAINSEY
This guy could be a sleeper. He's free from the shackles of the mandatory 3-year entry contract.
He has silently gotten the job done with the Blue Jackets.
Could be a diamond in the rough in this free-agent pool.
JASON WILLIAMS
Another potential sleeper on July 1st.
He missed the last half of this past season with a sports-hernia injury.
Again, with the right linemates, he could be a beast.
JOSE THEODORE
He has had a meteoric fall from grace since winning the Hart and Vezina trophies in 2001-02.
Is he as attractive as Cristobal Huet? Probably not.
Bertuzzi's career continues to downspiral as the Ducks bought out his contract.
Whoever signs him up is rolling the dice...and their balls.
MATS SUNDIN
At 37, Sundin's career is in its twilight.
But he's been bringing at least 70 points to the table for his whole career.
CRISTOBAL HUET
Anyone with a hole in net will be calling up Huet's agent.
He's the biggest name in net this summer.
He rejuvenated the Caps after being acquired at the deadline this past season.
BILLY MAYS
BRIAN ROLSTON
He's one of the top 5 or 6 names being thrown around.
Everyone wouldn't mind having him on their team.
Tampa Bay traded for exclusive bargaining rights to him.
But he looks hell-bent on testing the open market.
RADIM VRBATA
With 27 goals last season, Vrbata nearly doubled his total from the previous year.
But in the last 22 games of the season, he went scoreless. It's a risky pickup.
At 27, he is prime to breakout, but outside of Phoenix, he's likely to get less ice time
and isn't likely to repeat his '07 output.
Could he be this year's Chris Drury?
D --
DMITRI KALININ
He fell out of favor with Sabres brass.
They didn't even think of offering him a contract to stay.
But he's a name you've heard more than once in your travels.
A change of scenery could give him an erection.
D --
PAUL MARA
Handcuffed in the Rangers' defensive system, Mara couldn't match his Phoenix stats.
That fact can't be lost on him or the NHL GM's out there.
Whoever fails to land Redden or Campbell will overpay for Mara.
D --
WADE REDDEN
At 31, Redden is the cream of the crop when it comes to d-men this offseason.
He wants out of Ottawa and is looking to score big in the free market.
In '05-'06, Redden lead the league in +/-, and he is +47 since the lockout.
PAVOL DEMITRA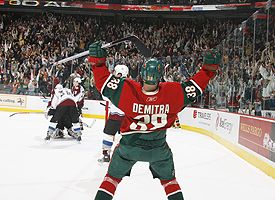 An unreal 93 points in the cluth-and-grab NHL of the 2002-03 season.
He was mud the following year after teams got hip to him.
He landed in Minnesota, where defense is first, and his stats went to mud.
He'll turn 34 early into the '08-'09 season and could excel with a perfect mix of linemates.
CORY STILLMAN
We're too lazy to look it up, but Stillman probably played with Demitra in that 2002-03 season.
Stillman came to the attention of many during his Cup runs with Tampa in '04 and Carolina in '06.
He's the classic case of the "wily veteran."
At 34, no one is sure how much Satan has left.
But the fact is, he still used to be a 30-goal scorer.
If he lands with the right team, he could return to being all business.
RUSLAN FEDOTENKO

Fedotenko ain't no joke.
He is another player approaching his prime that will be good for about 50-60 points a year.
Last year for the Islanders, he was streaky but effective.
He will be a good fit on someone's third line...
and maybe even a second-line player on a team in need of top-6 forwards.
GUMBY
Gumby was huge in the 80's. He is making a comeback.
He has the flexibility to play on any of your four lines.
D --
BROOKS ORPIK
Orpik went from having a terrible year to playing the best hockey of his NHL life in the span of three months.
He has developed into a big-time hitter, and his presence is huge on the ice.
He finally became the defenseman everyone thought he'd be for the Pens, and to see him leave would be almost as brutal as overpaying for him.
MICHAEL RYDER

Ryder is a bit of a mystery.
Two straight 30-goal seasons, but then he had an awful year in his contract year.
The guy is a legit 25-goal man. His past indicates as such.
Like so many others this year, he is entering his prime.
D --
MICHAL ROZSIVAL
That is a picture of mud.
Which is the same as Rozsival.
MARKUS NASLUND

It is very easy to forget how big of a monster Naslund was in Vancouver.
He is a little up there in age at 35, but you'd have to think he has two good years left in him.
He is a proven 30-goal scorer, and Vancouver had nothing last year.
The Canucks might bring him back, but if not...HMM...
KRISTIAN HUSELIUS

Huselius could be someone's Petr Sykora this year.
After Iron Mike released him in Florida, Calgary picked him up.
And he played for Kennan yet again.
He has been playing big-time minutes, throwing in 25+ goals a season.
Talent is coming out of his pores, and he is only 30. Do it.
D --
MARK STREIT

Mark Streit blew up last year with 62 points.
It was his first sick season. No one knows if it was a fluke.
He is good, but Montreal's powerplay is sick, and that's where he got a lot of points.
If he gets anywhere close to Brian Campbell numbers, you know the world is going to end.
D --
BRIAN CAMPBELL

He was one of the prizes at the trade deadline,
and he is now the prize of the Free Agent sweepstakes.
He has all the skills you need in a d-man, and he can score.
He is going to be a rich man on Tuesday.
:::::::::::::::::::::::::::::::::::::::::::::::::::::::::::::::::::::::
There are many other good players out there. Buckle up.
Go Pens.
Disclaimer
We are in no way affiliated with the Pittsburgh Penguins of the National Hockey League.
In accordance with the Fair Use Copyright Law, The Pensblog uses logos and registered trademarks of the National Hockey League to convey our criticism and inform the public.
Photos on The Pensblog are used without permission but do not interfere with said owner's profit.
If you own a specific image on this site and want it removed, please e-mail us (thepensblog@gmail.com) and we will be happy to oblige.
wooo
This work is licensed under a
Creative Commons Attribution 3.0 Unported License
.