Saturday, April 26, 2008
Posted by Pensblog Staff at 7:17 PM
[Jay H.]
WE ARE DONE WITH CROSBY AND DIVING.
NO MORE LINKS, NO MORE ANYTHING.
Whenever an opponent loses from now on,
the trendy thing is to blame Sidney Crosby for diving.
From [
Going Five Hole
]. this is all that needs to be seen.
A breakdown of the penalty against Martin Straka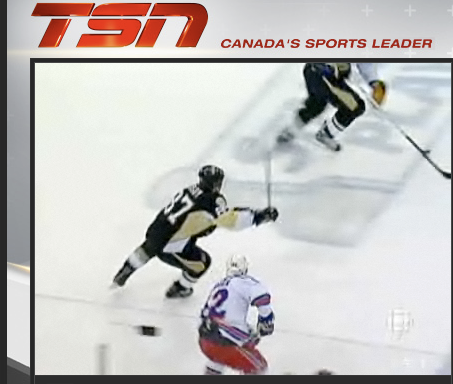 How is it a dive when said player doesn't dive?
We never liked Brendan Shanahan anyway.
But didn't he push for these rules?
As for Crosby, Shanahan said, "all the guys on this team - and in the league, for that matter - have a lot of respect for Sidney, and the work ethic he brings. There were a couple of calls that were made that were not necessarily dives on Sidney's part, but ... it's ice hockey. It happens. We fall. He's around the puck a lot, and he makes second and third efforts that are going to sometimes drop him down to his knees, and that's just the way he plays. I don't think he's necessarily diving, but he's the kind of player that will dive for loose pucks, and I think he plays an all-out, all-effort style that sometimes referees can confuse with someone fouling him."
What an ass.
And Marty Straka?
Who cares what he says. He should spend more time lifting.
[J Schiff]
And finally...
Don't you think people who have touched naked hockey players
know what the sport is all about?
[

Blueshirt Bulletin

] apparently doesn't.

They are letting all this Crosby/diving nonsense dominate their brains,
much like they want Sean Avery crap to dominate ours.
All they are doing is crying and whining and moaning...
and the best part:
Every goal the Rangers scored was great.
Every goal the Pens scored was because the Rangers let it happen.
Fortunately, Pensblog Adam went undercover and planted a seed.
We used the old "nothing bonds people more than a common enemy" trick.
"Hey, this guy hates that blog? Hell yeah! Posted."
It was too easy
:::::::::::::::::::::::::::::::::::::::::::
Disclaimer
We are in no way affiliated with the Pittsburgh Penguins of the National Hockey League.
In accordance with the Fair Use Copyright Law, The Pensblog uses logos and registered trademarks of the National Hockey League to convey our criticism and inform the public.
Photos on The Pensblog are used without permission but do not interfere with said owner's profit.
If you own a specific image on this site and want it removed, please e-mail us (thepensblog@gmail.com) and we will be happy to oblige.
wooo
This work is licensed under a
Creative Commons Attribution 3.0 Unported License
.