Saturday, January 19, 2008
Posted by Pensblog Staff at 4:58 PM
7:00
Be honest.
A Pens season wasn't complete until they went to the Forum De Montreal and got beat 8-1.
And although those demons have somewhat been exorcised since the move to the Bell Centre,
we old souls wish the Montreal Forum was still around.
But nowadays, the Forum is a shopping complex. [
Wiki
]
...............................................
Montreal has somehow stayed up in the thick of the Eastern Conference picture.
And they have done it quietly.
.................................................
AFTERMATH
Justin from [
EveryFacetOfTheGame
]
You always hear people use the cliche "Let me sleep on it."
Now you know what they mean.
You woke up this morning, rolled to the bathroom to do morning rituals.
And then it hit you when you looked at your disheveled hair in the mirror when you began brushing your teeth.
CROSBY IS OUT.
You stood there, contemplating life, and realized that it wasn't so bad.
Optimism aside, all the Pens have to do is job around the .500 mark till Bing returns.
Worse-case scenario, barring a total meltdown, they will be there in the playoff race.
But hey, guess who will be training
together
in rehab sessions for their returns in late February/early March?
Hold on for dear life until then.
People who love it:
[
Flyers Phan Forums
]
[
Japers' Rink
]
AND AS ALWAYS.....
We always visit our good friends over at [
boards.WashingtonCaps.com
]
Most of them have been surprisingly gentle.
AOforPrez
--
The ONLY negative thing about Cindy hurting his little baby ankle is that now when the caps run over them like roadkill, all that will be said is that ,"CROSBY WASN'T PLAYING!!!" Yet again, the caps will get no credit for their talents.
Wow. No comment.
And Dave Molinari is probably penning a new column somewhere:
"Crosby's good, but he hasn't had any big games on home ice this season.

And then he went and got hurt.
That's not the trait of a leader."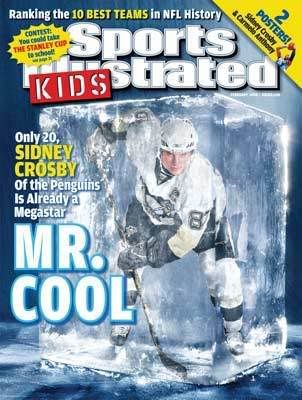 [
Going Five Hole
] explores the
SI: For Kids
cover jinx.
[ Click to enlarge ]
Fleury29 sent us the NHL.com Frozen Moment.
Lots of good stuff in there.
"Possibly Pensblog Charlie's dad above Staal's right shoulder." -- Fleury29
.................................................................
Perhaps it's fitting that the Pens are in Montreal tonight.
The rumors are flying now more than ever.
Best shape of his life.
Disclaimer
We are in no way affiliated with the Pittsburgh Penguins of the National Hockey League.
In accordance with the Fair Use Copyright Law, The Pensblog uses logos and registered trademarks of the National Hockey League to convey our criticism and inform the public.
Photos on The Pensblog are used without permission but do not interfere with said owner's profit.
If you own a specific image on this site and want it removed, please e-mail us (thepensblog@gmail.com) and we will be happy to oblige.
wooo
This work is licensed under a
Creative Commons Attribution 3.0 Unported License
.