Wednesday, November 14, 2007
Tlutsy, you got some 'splainin to do.


Actually, no, you don't. At all. [
National Post
]
If you guys want to know the scoop on this story, honestly, find it yourselves.
[
Fanhouse
] has all the links for you in a neat little post.
We just know there's a Jobber of the Week award to be given out.
This one goes to Zack Taylor, the idiot who posted the pictures online on his blog [
Is This Happening
]
One look at this dude's blog, and you can see he's in love with himself.
We are not going any further into this than we have to, but apparently this moron posted the naked pictures of Tlusty online on his blog...and then questioned Tlusty's sexual orientation.
Repeat...
Zack Taylor posted naked pictures of another man on his blog and questioned said man's sexual orientation.
Can you picture this Zack Taylor turd grinning ear to ear while uploading the pics onto his blog?
Very disturbing.
He's getting his 15 minutes of fame because he posted naked pictures of another man on his blog.
What a feather in your cap.
Anyone who posts pictures of other peoples' personal lives to get hits on their stupid blog is an idiot.
Expect pictures of Mike Comrie and Hillary Duff.
Which, by the way, if we don't get a mean-spirited photoshop of Hillary Duff by 4pm Thursday........we'll do nothing.
But needless to say.
Wake up people.
..................................................................
ESPN's David Amber has been doing interesting top-10 lists this season.
He counted down the top-10 U.S.-born hockey players of all time. [
ESPN Amber
]
10. Barrasso
4. Joey Mullen (somehow behind Brian Leetch at no. 3)
Number 1: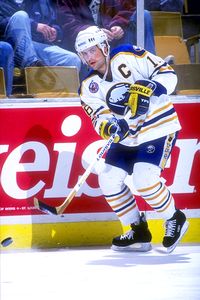 He was a beast.
Averaged 48 goals per season from 1987-1993.
If he would have beat the Lemieux in 1992-1993 scoring race, then we would have reason to dislike the man.
But what a player.
..................................................
The Red Wings had a scare when their plane slid off the runway after their game Tuesday night. [
Fanhouse
]
It reminded Chris Chelios of the time back in the 1800's when the team's horse-and-buggy crashed on its way to Kalamazoo.
......................................................................
Besides Tlusty, news in the NHL is slower than John Leclair.
So, we decided to find the NHL arenas that still do not have a sponsor.
Madison Square Garden
Joe Louis Arena
And lastly
Nassau Coliseum
...........................................
Speaking of trash and the Nassau Coliseum.
The Islanders are in town tonight. Huge game.
The Pens are retiring Paul Coffey's stuff.
Solid human.
Letang's first game up since last year...on a night when the Pens retire one of the best offensive defensive man ever?
It has the makings. Even though we just jinxed it.
We'll be lucky enough to be in attendance.
Nothing else is going on.
Guns 'N' Roses, take us home.
Go Pens
Disclaimer
We are in no way affiliated with the Pittsburgh Penguins of the National Hockey League.
In accordance with the Fair Use Copyright Law, The Pensblog uses logos and registered trademarks of the National Hockey League to convey our criticism and inform the public.
Photos on The Pensblog are used without permission but do not interfere with said owner's profit.
If you own a specific image on this site and want it removed, please e-mail us (thepensblog@gmail.com) and we will be happy to oblige.
wooo
This work is licensed under a
Creative Commons Attribution 3.0 Unported License
.