Friday, August 3, 2007
Posted by Pensblog Staff at 1:45 AM
The Pens announced their ticket plans.
It's a two-paragraph read.
But here's all you need to know:
Student Rush is all but history.
There's some bullcrap about text messages and raffles and crap for student rush.
It was great while it lasted.
But the fairweather fans are swooping in to get tickets.
Without those fans buying up season tickets and showing overwhelming fan support, the Pens may not even be here, so eh.
...
The Pens also say Wheatley Arena won't open till 2010-2011 season
...
................................................
Since we're around that time in Winter in the Sun, we decided to go back and see what people in Pens Nation thought about the Gary Roberts trade.
The following is stunning.
Faster your seatbelts.

From LetsGoPens.com:
pens87
--
how is roberts different from a leclair??



pfim

--
Comparing him to Gary Roberts is a joke.



Loaf31

-- I HATE this trade



Kovy27

--
I personally like this deal. Roberts gives us a gritty, leader type player who has experience in the playoffs. He is someone who will go infront of the net...I like that, we don't really have anyone who will do that.



tluke53

--
Roberts, is not going to make a big impact on the Pens, unless he is being brought in to replace Oulette on the second line. He does provide more scoring depth as a third liner. My opinion is that this move is meaningless unless it accompanies another trade.



44bash

--
Welch for a rental... no thanks, Roberts has 13 goals all season, and I didn't see him skating all that fast. Is he really going to be able to keep up with Crosby?



HockeyDaddy

--
Not happy giving up Welch for a 40 year old.


Jesse-

-I guess his age is making me hesitant.
To be honest, I haven't noticed Roberts much this year, so I can't really comment.
But his leadership, alongside Rex, is invaluable.
Most accounts say his intensity is still unmatched.
Bowser-

-I'm heading out for a few hours thanks for a promotion announcement but I would expect something to break within the next 2 hours about Roberts and Malone deals.




Zscout

--
The Pens should also bring back Leclair.
With Leclair and Roberts, the Pens would corner the market on *has been* power forwards.



Paul Baxter

--
I would rate this deal somewhere between "Lost a little too much" and "Utter disaster".
This trade is just stupid, IMHO.
Moreover, Roberts is washed up at 40



bigkam

--
Way too much for a 40 yr old rent-a-player. Anyone who argues this was a good deal is completely missing the potential with Welch, and the fact that Roberts will be gone in 2 months.



Draftnik-
How many Toronto ML playoff games did you watch between 01 and 04? I watched nearly every one. Roberts brings a presence, intensity, intimidation, attitude, grit, etc that can't be quantified. Toronto beat an infinitely more talented Ottawa team twice because Roberts led a team wide effort to scare them. He could pass on some invaluable lessons to the Pens on what it takes to be successful in the playoffs. He would be valuable even if he didn't score a goal.
netwolf-
I don't like giving up Welch for a rent-a-player. I do have some doubts as to whether or not he is the player in question. First, that would contradict the TSN report that said the Pens would be giving up a young roster player with potential. Welch isn't a roster player; he's in the minors. Second, Welch is hurt right now. He might very well be concussed, though WB officials have not characterized his injury as such.
I'd prefer EC to be the guy. I like him, but I don't see how he fits into the team long term. Moving him for Roberts would bump Malone to the ECs spot on LW with Talbot and Armstrong and that make the forwards better overall IMO.
Welch does still have a spot in the team's future plans IMO. And though this point will be largely missed by most people, Welch not being up here has more to do with contracts than his play, not that he's performed at an All-Star level to this point. Scuderi and Melichar are on one-way deals. Nasreddine is subject to waivers. Welch is on a two way and is exempt from waivers.

Welch was told by management coming in that due to his contract status, he would be shuttling back and forth.
..............


From Empty Netters--



Say what you will about the Penguins, they definitely added a physical element in both Laraque and Roberts. Laraque's probably the best fighter in the league and Roberts won't back down from anyone.

(Solid)
.....................


From Commentorblog:





Karri

--
No, Ray Shero can't be that dumb.
A "young roster player"? Welch? I don't know if I even like that. Roberts born on May 23, 1966, is at the end, or past the end, of his career.
Tiffany
-- Karri,
That's true....why would we want a 40 year old?? Maybe Welch just needs some time to improve his game.
Shanna
-- Now Noah, I wasnt to big on him anyway so I'm ok with dealing him. But for a guy that's almost retired?
Justin
-- did the pens bring back craig patrick to work on these deals? WTF????????
Loser Chris
-- Roberts is the wrong guy to bring into this locker room. He's a "me guy" not an "us guy". Proof:
- He spent too much time in Toronto when they were an embarrassment to the league recently. I'm sure there are refs that still carry a grudge against him.
- When Ron Francis signed with Carolina, Roberts wouldn't let him have his number 10.
- When Roberts then signed with the Leafs, he bugged Lanny McDonald to let him wear his
retired
number 7.
Is that the type of guy you want coming into this locker room right now? I sure would prefer him to stay put where he is. I'm sure there are other options out there for moving Welch if Shero is really determined to do so.
Antonette
-- This is a ridiculous Craig Patrick trade. Lets send MAF down to the Q while we're at it.
rachel
-- Go away Roberts!
seth
-- roberts can suck my left nut. i dont like the deal one bit.
Andrew
-- i don't like this trade with Roberts one bit.
loralei
-- Seriously. I think I automatically hate Gary Roberts. Unless he removes his face to reveal that he is really Ron Francis in disguise there is really nothing about that trade that i like.
dogwithshftyeyesdealing
--welch is a smart move for us, he cant even crack out top 7 d men right now. let alone when letang gets here. welch's ship has sailed
Nice.


........................................
The most recent soap opera in the National Hockey League has come to an end.

Dustin Penner is an Oiler.
What a mistake by Kevin Lowe.
The Ducks are laughing all the way to the draft table as they get Edmonton's first, second, and third-round picks next year.
Here was Brian Burke's response:
"We're going to take the three picks, and given Kevin's recent (managerial) performance, we expect them to be excellent picks."
— Brian Burke
We are proud to award Brian Burke with the first ever
"Job of the week Award."
(We need a trophy)
Wow
................................................
Our friends up at the OttawaSun dominate a
great article about the Senators roster decisions
in the coming year. Good read.
Tidbits from the article:
Jason Spezza is only 24 years old (wow).
Spezza is a prime target for the Maple Leafs if they would wish to extend an offer sheet.
Wade Redden, Mike Fisher, and Dany Heatley are UFA's next summer.
If 13-goal scored Scott Gomez gets $7.35 mill in free agency, what will Dany Heatley demand next summer?
Two Sens fans celebrate the big article.
...................................................................
Kissing Suzy Kolber previews the Steelers season.
Teaser: They suggest that Charlie Batch should start.
BigBatchNews is all over it.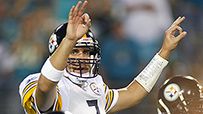 Picture: Ben showing how many picks he will throw in the game.

.....................................................................
The Sporting News says Buffalo is the best NHL city.
At least they can say they are number one at something.
Bills fan =Stunned
............................
PictureBlog
Pokey Reddick.
Look at that equipment.
..................................
Winter in the Sun
Game #63
March 1, 2007
Games of New York. PENS WIN.
4 - 3
Picture: Islanders coach Ten Nolan shares notes with The Lone Ranger prior to Thursday's game.
What resulted was the most inspiring shorthanded performance the world has seen since the drummer from Def Leppard.
Jordan Staal uses his Bunyan to own Cullen and then pops it in to make it 2-1.
There have been a lot of huge goals scored this season. Don't forget this one.
Check out Danny Potash. He is all business.
Commentorblog:
Anonymous said...
Roberts is money. Anyone over 35 that can play in the NHL and hit like that is alright in my book.
Staal never seems rattled, he just seems like he is taking it all in, but somehow always manages to come up with clutch goals when the team needs a boost.
Sarge's wrister tonight brought my neighbor (who claims to like the Caps as much as the Pens, how that is humanly possible is beyond me)very close to shedding a tear.
-eric
.........................................
63
Disclaimer
We are in no way affiliated with the Pittsburgh Penguins of the National Hockey League.
In accordance with the Fair Use Copyright Law, The Pensblog uses logos and registered trademarks of the National Hockey League to convey our criticism and inform the public.
Photos on The Pensblog are used without permission but do not interfere with said owner's profit.
If you own a specific image on this site and want it removed, please e-mail us (thepensblog@gmail.com) and we will be happy to oblige.
wooo
This work is licensed under a
Creative Commons Attribution 3.0 Unported License
.